We are delighted to introduce you a fine selection of wines from Italy, Puglia region, Salento area, the heel of the Italian boot. >>> DOWNLOAD OUR FREE BROCHURE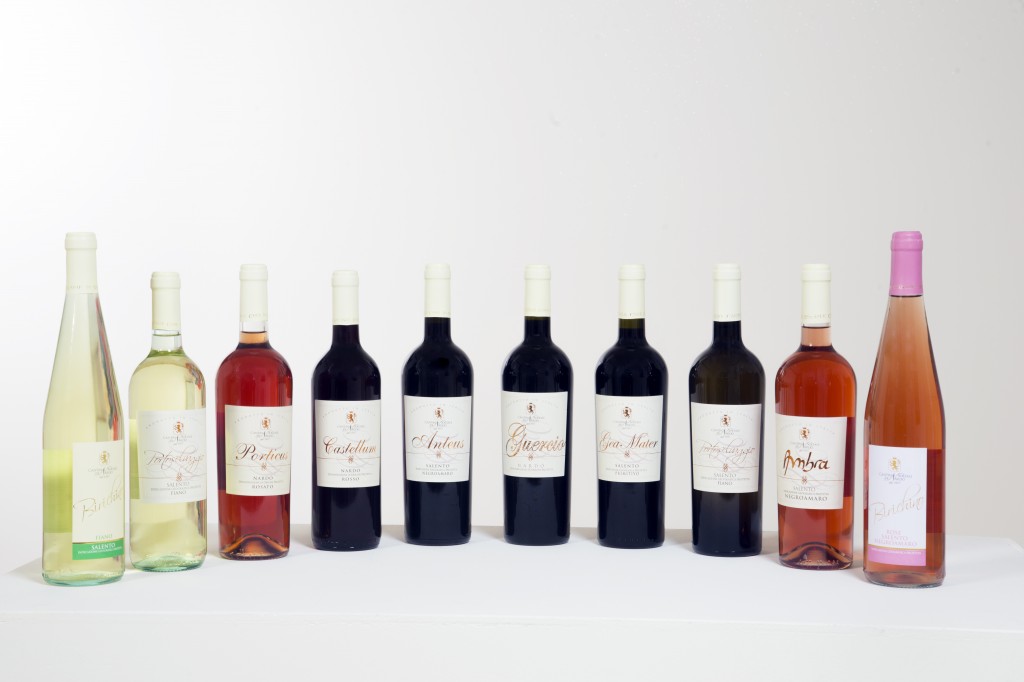 Puglia (also known as Apulia) has always produced prodigious quantities of wine. Italy is the largest wine-producing country in the world and Puglia generally contributes from 18 to 20 percent of the country's total, more than any other region. Historically, much of Puglia's wine production has consisted of rough and rustic red wines that were either consumed locally or shipped north for the supermarket export trade. However, much has changed in recent years. The overall quality of wines from Puglia has improved considerably in the last several decades due to enhanced regulations and, more importantly, more inspired winemaking by a number of Puglian producers that emphasizes quality over quantity.
The international recognition garnered by some dynamic Puglian winemakers in conjunction with the realization that Puglia's climate and habitat offer great potential for growing quality grapes has led to a wine rush in Puglia. Wineries from northern Italy and elsewhere have made substantial investments in Puglia in the form of land and vineyard acquisitions, capital improvements and infusions of modern winemaking technologies. Marchesi Antinori and Gianni Zonin are two marquee-name producers that have
made substantial investments in wine operations in Puglia recently to great
commercial success.
Puglia has 29 DOC wine zones of which more than half (16) are located in the southern-most part of Puglia in what is called the Salento peninsula, the fertile, flat and sun-drenched tip of the "heel" of the "boot" that comprises geographic Italy.
The three main red grape varieties in Puglia are all warm-weather, indigenous varieties – Negroamaro, Nero di Troia and Primitivo. Negroamaro (literally "black bitter') is the region's most widely planted variety. It is found primarily in the Salento zone and is used extensively in the production of Puglia's full-bodied and robust Salice Salentino wine. However, because of extensive experimentation with production and ageing regimens, there is a vast range in styles of Negroamaro. While Negroamaro
generally makes robust wines, they can vary considerably in terms of color, acidity and alcohol. Negroamaro is also frequently blended other traditional or international varieties such as Montepulciano, Malvasia Nero and Cabernet Sauvignon.
Primitivo is another widely-planted variety found primarily in the Salento zone and west-central Puglia. Genetically related to Zinfandel found in California, Primitivo is the basis for what is arguably Puglia's best category of red wine, the exuberant and intense Primitivo di Manduria from the Salento zone.
Italy Flavours represents in UK, as exclusive export partner, Cantina Sociale di Nardò.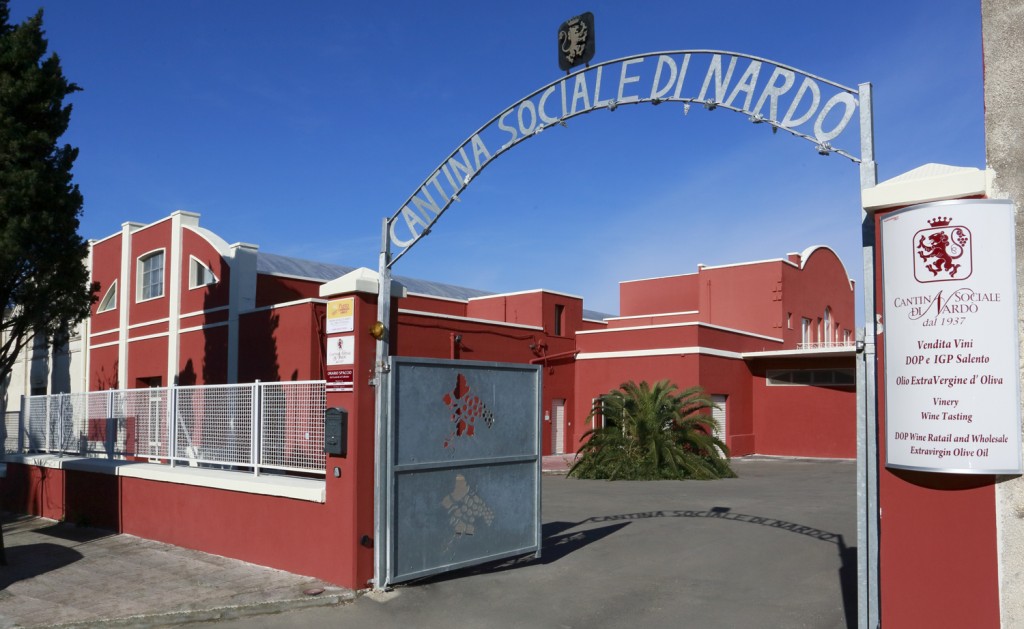 Nardò, from the greek word "Neriton", is one of the most important baroque and tourist town in Puglia with it's 190 square kilometres of land and a coastline strectching for more than 20km's, which includes the Regional Park of Porto Selveggio, is after Lecce the largest centre of Salento.
The area has remarkable artistic importance with the historical centre decorated with beautiful churches and Baroque buildings, while the countryside is dotted with towering Fortified Farms, revealing the ancestral interest and passion of the people for the land of Nardo that is very generous and perfect for the production of wine.
Within this frame is our historic winery, founded in 1937 with the initiative of 24 passionate winemakers who, by taking advantage of a thousand-year experience in the field of winemaking were able to achieve, even then, a beautiful product due to the favourable climate and environment of Nardo. Today there are around 100 members that deliver their grapes to the Cantina from an area of around 90 hectres. Here, between uncontaminated rural scenery and important works of art, are made the famous DOC Riserva "Guercio", the DOC "Nardo Rosso", the IGP wines "Gea Mater" (100% Primitivo), Anteus (100% Negroamaro), Ambra (rosé) the Porto Selvaggio and the White and Rose Berrichino complete the list.
WINE REPS
>>> Nunzio Logroio
Family grape growing business of three generations in Ginosa, (Taranto).
Studied Agraria at Mondelli College, specializing in viticulture. Received a
Diploma of Perito Tecnico Agrario.
Contact: mob 0796 317 1395 email nunzio@italyflavours.it
>>> Chris Brady
Grew up in an Australian family obsessed with Italian wines and all
things Italian. Studied Business Management/Arts at The University of
Queensland. Diploma in Small Business and Tourism.
Contact: mob 0796 428 4749 email chris@italyflavours.it
>>> Luigi Spano
Administrative Office Italy Flavours
Contact: mob +39 347 6525991 email luigi@italyflavours.it